The 'Pedagogy, Education & Praxis' Research Program
An introduction to the work of the PEP International Research Network:
Edwards-Groves, C. & Kemmis, S. (2016) Pedagogy, Education and Praxis: Understanding new forms of intersubjectivity through action research and practice theory. Educational Action Research, 24(1), 77-96. Available online via:
http://www.tandfonline.com/doi/full/10.1080/09650792.2015.1076730
The PEP International Research Network is a collaborative international research community. Its work includes:
A developmental community of established scholars + mid-career + early career and postdoctoral + doctoral researchers
A cross-institutional research program with key nodes in

Australia:

Charles Sturt University, New South Wales
Griffith University, Queensland
University of Queensland, Queensland
Monash University, Victoria
Southern Cross University, New South Wales
Queensland University of Technology, Queensland
University of Wollongong, New South Wales
University of Sydney, New South Wales
University of Technology Sydney, New South Wales
Australian Catholic University, Melbourne, Victoria

The Netherlands:

Utrecht University of Applied Sciences
University of Leiden

Sweden:

University of Gothenburg
Borås University
Karlstad University

Norway

Tromsø University
Norwegian University of Science and Technology
Nord University

Finland:

Åbo Akademi University
University of Jyväskylä
Tampere University
University of Oulu

Colombia:

Universidad Nacional de Colombia

Collaborations in research supported by formal bilateral agreements for research cooperation between many participating universities
A shared research agenda: 'Praxis development throughout the teaching career'
Theoretical studies of praxis and praxis development as they are understood in different intellectual, theoretical and cultural traditions
Empirical studies informed by and informing the theoretical studies in areas including

Teachers' professional learning and development throughout the career
Leadership and social justice
Learning and Didaktik
Education for all and inclusive education
The PEP Research Questions 
An overarching project for the PEP Research Network
Participants in the 2019 Lübeck, Germany, meeting of the PEP International Research Network agreed that a new overarching project would inform the work of the network:
What, for our times, does it mean to live well in a world worth living in?
This overarching project will be pursued through inviting participants in the PEP Network, and the participants with whom we engage in our research work, to consider this overarching question. We hope that this overarching question will be explicitly addressed alongside each of the 2020-2023 PEP Research Questions outlined below.
Following a review and consideration of the research questions that had guided the work of the PEP International Research Network from 2008 to 2019 and based on the discussions in Lübeck, the following three questions were developed
Research Question 1: In our times, what constitutes educational praxis?
This question, although revised, maintains faith with the first of the 2008-2019 PEP Research Questions. Continuing to work on this question, in its revised form, is intended to allow the Network as a whole to continue to consider the relationships between the different intellectual traditions that inform our work as educators and pedagogues (for example, Pedagogik, Bildung, and Didaktik in different European traditions, Educational Studies and Education in different Anglophone traditions, and 'Educación Popular' and 'Pedagogías Decoloniales' in different Latin American traditions).
The notion of praxis includes a notion of the good for each person and the good for humankind. Through the notion of praxis, new Research Question 1 thus connects directly to the overarching question, 'What, for our times, does it mean to live well in a world worth living in?'
Research Question 2: In our times, how are educational practices being differently enabled and constrained in our different national contexts?
This question will allow us to continue to explore the nature, evolution, and possible empirical interdependencies (in ecologies of practices) of the five key kinds of practices that together constitute the Education Complex (see Figure 1). All of these practices are to be found in the education lifeworlds and systems we explore in our different transnational, national, regional and local settings.
The overarching question 'What, for our times, does it mean to live well in a world worth living in?' suggests a source of criteria against which to critically interrogate both
contemporary educational practices and contemporary conditions (practice architectures) for education that exist in our different nations, regions and local settings.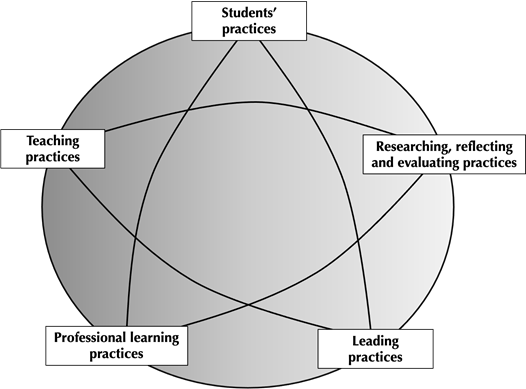 Figure 1: The Education Complex
A number of researchers in the PEP Network will continue to explore Research Question 2 through the lens of the theory of practice architectures schematically outlined in Figure 2:

Figure 2: The theory of practice architectures
Research Question 3: How, in our times and in our different national, regional and local settings, is education changing in response to differing conditions that are shaping our societies and our world?
This question allows us to explore some of the great challenges that confront societies and education in our times, including, for example, the challenges associated with (a) climate change, requiring us urgently to develop more extensive and expansive views of education for sustainability; (b) neoliberalism and neoliberalisation, requiring us to re-professionalise education as a profession and a discipline; (c) the current pandemic crisis that demands meaningful and timely educational practices at all levels; and (d) politically polarized societies requiring educators to create communicative spaces for people to agree on the common world worth living in (this includes challenges for education in post-conflict/conflict contexts).
Research Question 3 will thus allow us to consider how to renew, for our times, the double purpose of education: to help people to live well in a world worth living in, thus explicitly addressing the overarching research question of 'What, for our times, does it mean to live well in a world worth living in?'
A number of researchers in the network will explore Research Question 3 using the lens of a theory of education that incorporates the theory of practice architectures (see Figure 3).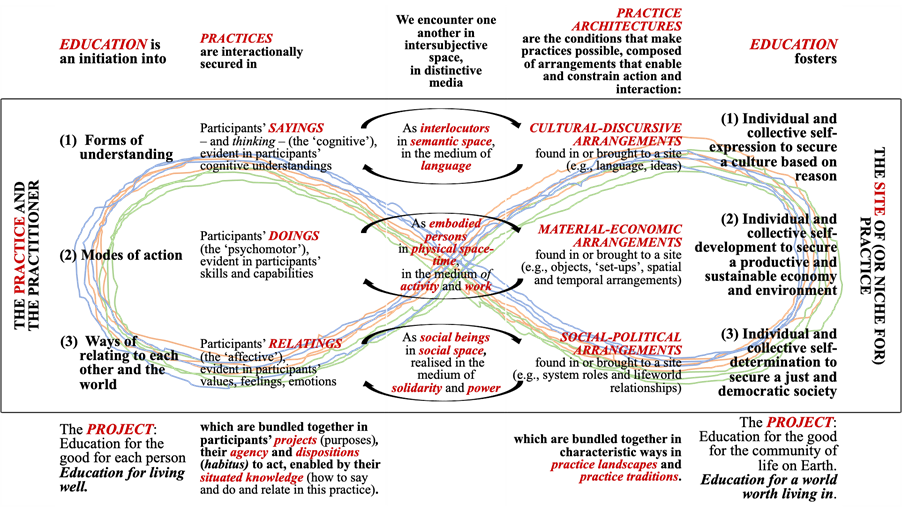 Figure 3: A theory of education
A matrix of national and cross-national writing and reflection
A book series for Sense/Brill publishers: Pedagogy, Education and Praxis. =
Development and dissemination of our research and findings
Holding research meetings of the international collaboration held in parallel with one or two international research conferences per year
Presenting keynote speeches, symposia and papers at these conferences to invite discussion of our work
Disseminating our findings to theorists and researchers through scholarly articles in peer-refereed journals
Disseminating our findings to practitioners and policy-makers through professional practitioner research conferences, professional seminars, and professional development meetings, and by publications in professional journals
International study schools (2008-2019) for doctoral students and early career researchers
Participants in these seminars

meet and discuss the work of contemporary researchers on researching professional practice, praxis and praxis development,
exchange ideas and reports about their own research,
build international contacts and networks, and
consider becoming part of a rising generation of researchers who will sustain and develop the 'Pedagogy, Education and Praxis' research program